If you are a devoted and caring dog owner like me, you would be absolutely crushed if your doggy ran away without having a proper collar with an ID or chip.  Even though our lovely phantom doodle Roxy prefers being close to us all the time and has no intention of running away, I have decided to find her the best collar with an ID. During my extensive search, I came across the company DOG iD and decided to write and share with you my detailed DOG iD review and analysis.
What is DOG iD?
The company DOG iD was founded by Edward Wimmer and his father Mike in 2006 with a deep-rooted passion for pets. DOG iD is not just a brand. It's the promise of the security of your furry babies. Their products are proof of their dedication; designed with precision, extreme attention to detail, and a maximized focus on durability.
DOG iD's mission is to provide pet owners with good quality durable products that will help prevent the heart-breaking experience of a lost pet.
DOG iD Product Analysis
What DOG iD Products are Available?
The diverse range of identification solutions offered by DOG iD caters to the varying needs of dog owners.
From the dog ID tags that have been a staple for generations to collars complete with integrated identification and a selection of specialized dog gear, DOG iD leaves no stone unturned in its quest to provide a holistic suite of options.
Are There Product Bundles Available?
For pet owners seeking a perfect solution, DOG iD has their back. There are 4 different product bundles available now. The benefit of bundles is getting a few products at a lower price. For our dog Roxy, we chose a bundle of Rock Solid Accessory + ID Bundle that saved us $15.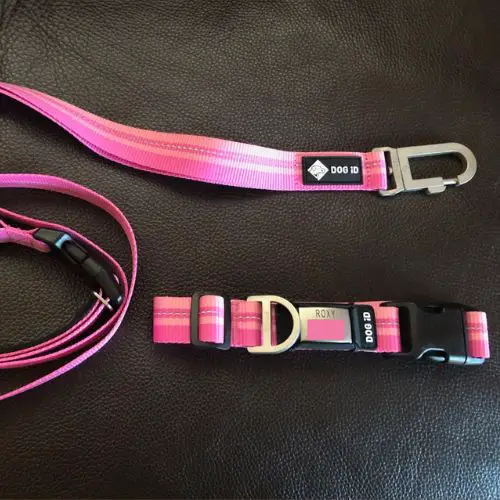 Why Are Dog iD's Products Different from Other Similar Products on The Market?
Well, their unwavering commitment to design and quality is the answer.
The detailed design of their dog tags ensures that they produce significantly less noise than traditional labels. Having quiet dog tags is essential for sensitive dog owners. Their focus on comfort and convenience is what sets DOG iD apart from other dog ID product companies on the market.
One of the eye-catching features of DOG iD products is their level of personalization. Every dog is unique, and DOG iD understands that.
You have the option to choose the color of any DOG iD product. For the DOG iD tag, you can put your dog's name, address, and phone number. For our sweet dog Roxy, we chose pink as it looks the best on her along with being the most noticeable with her black fur.
How Much Do DOG iD Products Cost?
Investing in the safety of our pets is usually affordable. DOG iD keeps a good balance between the quality and affordability of their products to ensure customer satisfaction.
DOG iD's transparent pricing structure ensures that your dog gets effective identification at a reasonable cost. Buying good quality products usually saves you money in the long term as it won't require any replacement for a prolonged period.
What are the Pre-Purchase Considerations?
Before selecting a DOG iD product, you should consider the size of the dog, preferred colors, and your dog's specific information. Such information (name, home address, and phone number) should be included on the ID tag. This will significantly help with your dog's identification if your doggy runs away or is stolen.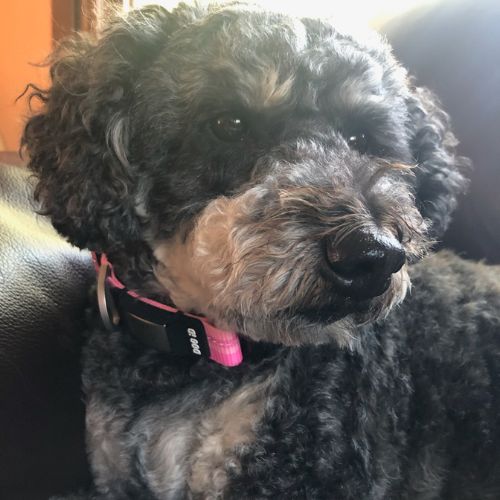 What is the Outcome of Using DOG iD Products?
The value of DOG ID products lies in their peace of mind. The fear of losing your beloved pet is eliminated with identification information on its tag. This increased level of security allows you and your doggy to enjoy your time together without unnecessary worry.
What Do Dog Owners Say About Using DOG iD Products?
We are extremely satisfied with the DOG iD products. When choosing an identification solution for our furry family member, Roxy, we decided on the Rock Solid Leash, Collar & ID bundle.
This bundle not only provided detailed identification information but also came with a durable leash and comfortable collar. This product assures us that Roxy is always safe.
Pros/ Cons
Here are some pros and cons of investing in DOG iD products:
Pros:
It solves any pet's identification problems.
Hassle-free returns.
Free shipping for the first order of $14.99 or more.
It allows customization options to cater to all your needs and requirements.
DOG iD has competitive pricing without compromising on quality.
The designs provide the necessary comfort for your pet.
Their bundles assure effective identification solutions.
Cons:
Online shopping may not suit all customers.
Some products may be too big for smaller dog breeds.
FAQS About DOG ID
Does my dog need to have an ID tag?
Yes, an ID tag is vital to a dog's safety equipment.
What information should I put on my dog's ID tag?
Include your dog's name, your contact number, and your home address.
Does my dog need to wear a collar and tag?
Yes, a collar and tag are essential for proper identification.
What is the alternative to dog ID tags?
Micro-chipping is an alternative. However, combining both microchips and ID tags is recommended for optimal security.
Conclusion
In a world of uncertainties, DOG iD is an excellent safety solution for many pet owners. DOG iD's dedication to designing an effective, customizable, quiet, and affordable identification solution stands out among its fellow dog identification companies.
DOG iD products will help you ensure that your lovely doggy will have not only high-quality comfortable gear but also essential ID information on its tag allowing you to share unforgettable memories together and avoid unnecessary worries of losing your pet.
Thank you for reading my "DOG iD Review and Analysis."
I would love to hear about your experiences with DOG iD products – please leave your comment below.
I believe other dog owners will appreciate and benefit from it.