Dog's can be quite adventurous and you never know what your pup might be getting their nose into if you aren't around to watch them constantly. Every dog is susceptible to getting all sorts of things stuck in their facial hair or skin folds and you want to keep their faces clean from dirt, garbage, and food particles because bacteria can grow and cause infections. Want to learn how to wash a dog face? That area is a bit more tricky to clean so you might want to find out how to cause as little discomfort as possible for everyone involved.
Things You Will Need Before Cleaning Your Dog's Face
A place to clean your dog, whether it be a tub or even just your kitchen sink if it's just his face of if you own a small dog that fits in
A shower head, tap, cup, sponge, or washcloth
Shampoo made specifically for dogs
A clean dry towel
Fresh clean cotton balls
A dog brush
Treats to reward good behavior
You have a couple different options for washing. If your dog loves baths then you should have no problem just using the shower head or tap and you might not even have to fill up your tub or sink. If they aren't comfortable with baths with taps you could fill up the tap or sink with a bit of water and use a cup to gently pour water or the back of their head or use a damp washcloth or sponge for the whole process.
How to Wash a Dog's Face Steps
The temperature of the water is very important especially when it comes to cleaning your dog's face which requires special attention! It should only be lukewarm or around 37 degrees Celsius because anything that is too warm can be too uncomfortable and make bathing and washing an unpleasant experience for your dog. 
1. Brush Before You Start Washing 
Brush out the dog's hair on and around their face, making sure to do this very gently and carefully because this is a sensitive area and being too aggressive with the brush can be really painful. This will help with any matting that may be present and also loosen anything that might be stuck in the facial hair. 
2. Put Cotton Balls in Your Dog's Ears
You might want to put a dry cotton ball in each of your dog's ears to prevent any water from going in. If your dog is not comfortable with this then you can skip this step and just be careful not to get any water in the ears because it can be uncomfortable and lead to infections. Don't force your dog to do something they don't want to do.
3. Start By Cleaning The Eyes
Before you start with the shampoo you want to take a damp wash cloth or some damp cotton balls and clean the area around the dog's eyes. For this step is it very important not to use shampoo because it can get in their eyes and be very irritating and painful for the dog. Make sure you don't use paper towel for this because it can deteriorate quickly and leave bits of damp paper towel under your dog's eyes.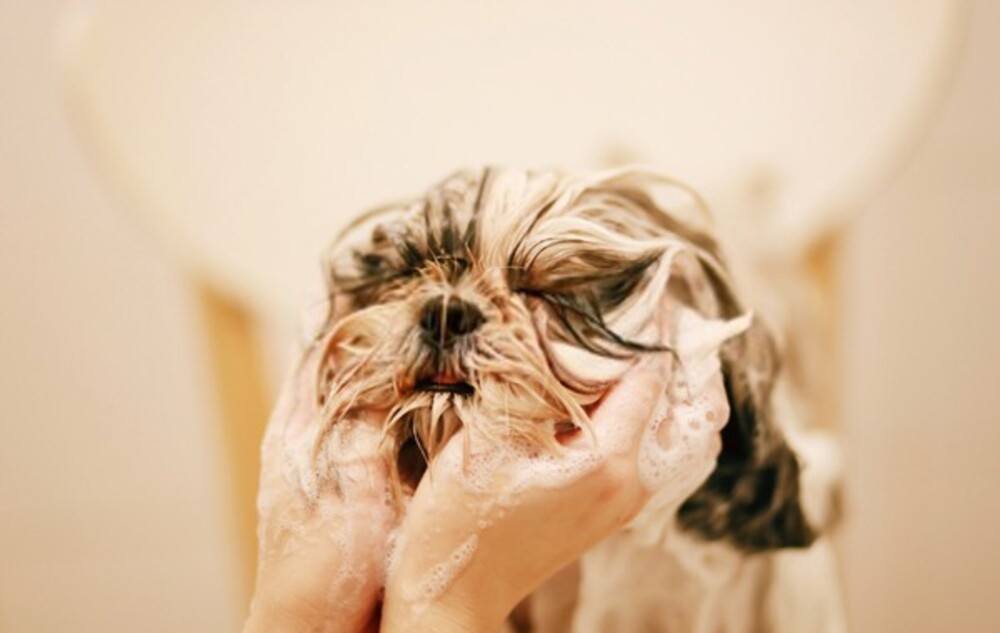 4. Start Applying Water
Once you have cleaned around the eyes, you can start with the water. If you are using a shower head, tap, or cup make sure the dog has their nose pointed down and let the water run from the top of their head downward to the tip of their nose. If you are using a washcloth or sponge, make it just damp enough to get the face wet but not soaking. While you are doing this, avoid touching the dog's eyes.
5. Shampoo Away!
At this point you can start shampooing. When selecting a shampoo, make sure it one that is specifically made for dogs. Do not use your own shampoo because it can be far too acidic for your dog's skin and can be very harmful if you use it on them over time. Start by pouring the shampoo into your own hands and rub onto the top of your dog's head and then massage it in a downward motion making sure to avoid the eyes until you've reached the end of their face. Also, make sure to clean the area around your dog's mouth, while avoiding to get the shampoo too close because no one enjoys having shampoo in their mouth.
A good process to follow is
Start at the top of the head
Massage shampoo down to the cheeks
Move down to the jowls
Clean around and under the mouth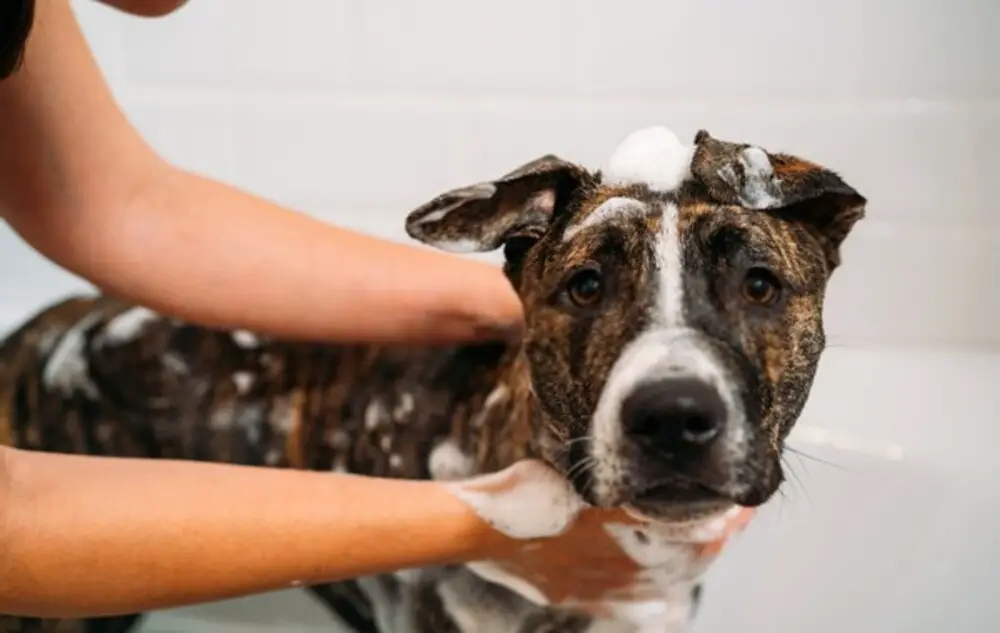 6. Rinse Well And Slowly
Now you can start to rinse off all the shampoo with clean water. This should be done carefully to avoid any soap or water getting in the eyes or ears of the dog. Like before, if you are using a shower head, tap, or cup, make sure your dog's nose is pointed downward to help direct the flow of water.
Keep the flow of water starting at the top of your dog's head and use your hand to cover the eyes as you are rinsing and continue to rinse until all the shampoo is washed off. If you are using a washcloth or sponge, only use clean water to cleaned off all the shampoo, rinsing the washcloth and sponge often with clean water to ensure you are getting out all the shampoo.
7. Dry Your Dog And Done!
The shampoo should be all rinsed off at this point, and now you can turn of the water and drain out the tub or sink if you have filled it. Don't forget to remove the cotton balls from your dog's ears and even if you haven't placed any cotton balls in the ears, check to make sure no water has gotten in. If there is any water present in the ears, you can dry it by using a dry towel or a fresh cotton ball. Now you can pat your dog's face dry with a towel.
Conclusion
By now you have successfully learned how to wash a dog face and you can have confidence knowing that it is fresh and clean! At least until they stick their face in another mess. When that happens just remember the steps that you've learned today!